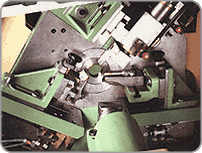 TYPE VKS - Cutter Arrangement

As with all our range of variety lathes, we have both a roughing and a finishing cutter.

All holders are hydraulically operated with variable control. Option on the VKS is for the roughing cutter to be mounted vertically for extra deep cuts to be taken on deep profiles.

Thin parting off knife, and with variable options on the drilling unit which allows deep drilling in stages, stepped drilling, and for high output drilling can be made as the piece is pre-turned through the stayring.

All guards are fully interlocked for complete safety during operation.
---