Special Machines
PROFISANDER
The profisander is a belt sanding machine which can be used for sanding veneer edges, curves, mitres, bevels as well as fins sanding of small components and sections.
Bed size approx 2000mm x 1100mm with variable rollers from 35mm to 125mm. The machine comes with an oscillating action to ensure fine sanding of any pieces.
---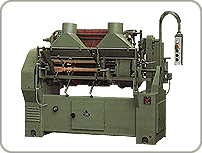 Tumbler
Our 'Minimat Tru' enables the finishing of compnents by hand using our drum units. These can finish multi profile pieces using special grit or alternatively they can be used to seal on laquer components.
Infinitely variable from 30-125 rpm we offer two standard sized drums and machine is available either as a bench model or with its own stand.
---